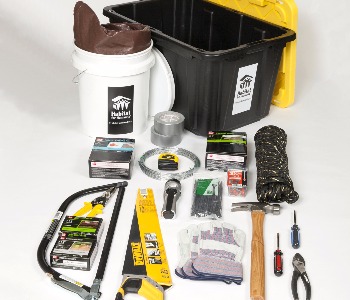 Habitat for Humanity International is providing 2,000 shelter repair kits to Puerto Rico to help families repair their damaged homes following Hurricane Maria. The kits -- assembled by Habitat volunteers in metro Atlanta -- are the first phase of the Habitat Hammers Back recovery initiative in Puerto Rico.
The shelter repair kits contain the tools and supplies necessary to perform critical home repairs in Puerto Rico, including large tarps for temporary roof repairs.
They are part of Habitat's three-phase disaster response focuses on immediate relief, community stabilization and long-term recovery.
"Habitat for Humanity is answering the call to help families in Puerto Rico get back on their feet. We are committed to assisting as many people as we can now and for the long term," said Jonathan Reckford, CEO of Habitat for Humanity International.
"Traditionally, nearly 80 percent of disaster funds have gone to immediate relief, while only 20 percent to long-term recovery. We are focused on that long-term component and our ability to respond effectively depends on available resources. We ask those who can help to donate to our Maria response."
Habitat is assessing the damage to homes on the island and will determine construction plans after evaluations. Habitat for Humanity of Puerto Rico has been building and repairing homes in the U.S. territory since 1997.
"Hurricane Maria has caused unprecedented damage in Puerto Rico, with some of the hardest hit communities facing up to 90 percent of homes destroyed," said Amanda Silva, executive director of Habitat for Humanity of Puerto Rico. "Habitat's shelter repair kits will allow families to make immediate repairs as we begin the multi-year recovery across the island."
Habitat's long-term post-disaster recovery efforts include repair of damaged homes and construction of new affordable homes. Construction plans are determined after evaluations and are dependent on the level of support received from donors, volunteers, corporate partners and other community organizations.