Programs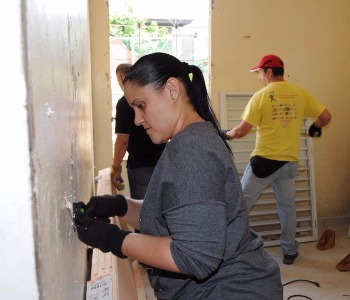 Women Build
Women Build promotes the involvement of women and teenagers in the construction of Habitat homes.  We work to recruit, nurture, and train women to build and maintain simple, decent, healthy and affordable homes for families in need.
Women volunteers and homeowners gain the confidence and skills to paint, pound nails, raise walls — and create hope.
As the first Women Build project in Puerto Rico, women volunteers will help to build the house for a domestic violence survivor. We want to empower her for a new beginning.
A Touch of Kindness
This initiative is an expansion of Habitat for Humanity's mission. While building and rehabilitating houses remains the foundation of what we do, we also want to help low-income families who are affected by age, disability or family circumstances and struggle to maintain their homes in safe conditions.
We aim to help three to four homeowner families a year, making home repairs that reduce health or safety hazards.
Habitat ReStore
We are seeking to establish the first Habitat ReStore in Puerto Rico. ReStore is a non-profit home improvement store and donation center that sells new and gently used furniture, appliances and building materials and more.
The store will create jobs and serve as a showcase for the products of entrepreneurs. And it will help families in need with materials and or furniture.