Habitat for Humanity Puerto Rico
Habitat for Humanity of Puerto Rico, founded in 1997, is a non-profit organization that seeks to help individuals and families achieve stability, self-sufficiency and a better future through homeownership.
Habitat Puerto Rico is an affiliate of Habitat for Humanity International, a global entity working in nearly 1,400 communities across the United States and in approximately 70 countries around the world.
New Construction
We build homes for families with limited economic resources on land donated or acquired through monetary donations. Habitat selects families through non-discriminatory criteria and requires each family to contribute 400 hours of work that are distributed between the construction of their home and their participation in educational workshops.
The selected family pays an interest-free mortgage with no gain for Habitat for a period of 25 years. The real cost of housing is subsidized by Habitat through donations in materials, services and/or monetary contributions from individuals and corporations.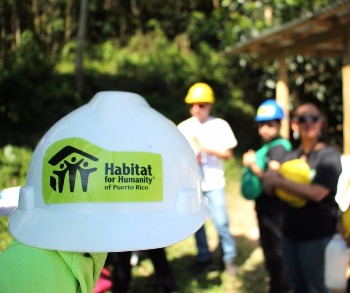 Housing Rehabilitation
Habitat's primary focus is creating opportunities for low-income families to own their own homes. However, we have designed a pilot program Touch of Kindness, through which we have carried out minor rehabilitations for families who own their own home but do not have the economic resources to keep it in a healthy state.