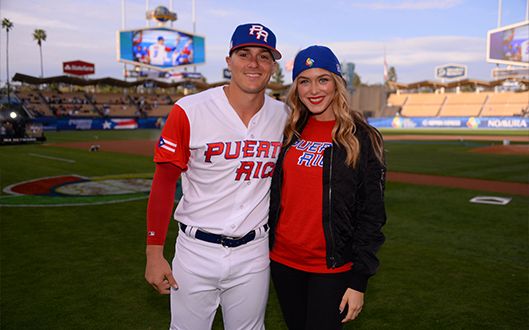 Habitat for Humanity of Puerto Rico selected for donation by Kiké Hernández and his fiancé Mariana Vicente, who supplemented donation with over $225,000 raised through their fundraisers
LOS ANGELES – Dodger Owner & Chairman Mark Walter and the Los Angeles Dodgers today announced a donation of $2 million to Habitat for Humanity of Puerto Rico to support rebuilding efforts following the devastation left behind by Hurricane Maria in 2017.
Habitat for Humanity of Puerto Rico was selected to receive the donation after consultation with Toa Baja, Puerto Rico resident and Dodger infielder/outfielder Kiké Hernández and his fiancé Mariana Vicente, who supplemented the Dodgers' donation with over $225,000 raised through their fundraiser on You Caring and "Puerto Rico Se Levanta" charity t-shirt sales through 500 LEVEL. The donation has been earmarked to focus on rehabilitating/reconstructing damaged homes in Humacao, Santa Isabel, Ponce, Patillas, Arroyo and constructing new housing in Guayama. According to government estimates, the hurricane severely damaged or destroyed more than a third of the Island's 1.2 million occupied homes and more than 60,000 new homes need to be constructed.
"It's been more than six months since Hurricane Maria's devastating effects on Puerto Rico and with so much work still to be done, the Dodgers want to do our part to help with the island's rebuilding and recovery efforts," said Dodger Owner and Chairman Mark Walter. "Kiké and Mariana have been such strong advocates for Puerto Rico, and we want to join their families and loved ones in helping repair the community and work towards a return to normalcy."
"Puerto Rico is a such a special place, and I'd like to thank Mark and the entire Dodger organization for their support and help in rebuilding our homeland following these natural disasters," said Kiké Hernández. "This donation will provide housing assistance for many families, but there's a long way to go and many people that still need our help."
Habitat for Humanity of Puerto Rico has been building and repairing homes since 1997. The organization has expanded its mission in the aftermath of the storm, and expects to play a leading role in the Island's housing reconstruction effort, investing millions over the next five years with the goal of building and reconstructing for families in need. Habitat's three-phased disaster response focuses on immediate relief, community stabilization and long-term recovery.
"We are honored to have been selected by such a prestigious organization as the Dodgers, and by the much-loved and admired Puerto Ricans Kiké Hernández and Mariana Vicente, to carry-out the important task of providing safe and decent housing for Puerto Rican families affected by Hurricane Maria," said Amanda Silva, Executive Director, Habitat for Humanity of Puerto Rico. "Together, we will work towards the reconstruction of our island with the same passion that the Dodgers display on the baseball field."
Fans can join in the efforts of Mark, Kiké, Mariana and the Dodgers by donating at HabitatPR.org/Dodgers.