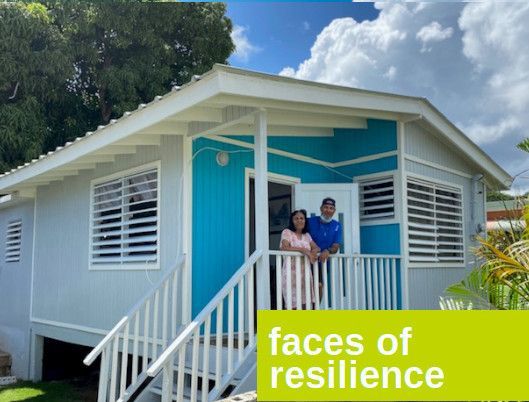 Learn more about Ismael's story, one of the families that benefited from Habitat for Humanity's Home Repair Program
"This is the house that my father built; this is where I grew up and where I take care of my elderly mother."
Ismael still lives in the wooden house that his father built over 45 years ago. He and his sister look after his mother, who suffers from Alzheimer's disease. This is the only place she knows and remembers. In 2017, Hurricane María clobbered their home and although it remained standing, the roof suffered damages that substantially deteriorated the house.
In the aftermath of María and despite the damages, Ismael's family remained in their home. Water permeated the wood, causing it to rot. A lack of resources made it almost impossible to repair the house, making his mother's care even more difficult.
"This is the place she knows, and where her memories are. I wouldn't change it for anything."
After almost three years of living with the damages caused by Hurricane Maria, Ismael applied to Habitat for Humanity's Home Repair Program for homes that had suffered damages due to the hurricane. The Home Repair Program is possible through a $50 million donation from AbbVie, a global biopharmaceutical company.
"Habitat repaired my home and made it seem like new. I call it "El Jaragual", after the Ismael Rivera song. We now have a safe roof over our heads, and we can take care of our mother without worries. This is the home she knows, it's where her memories are. I would not change it for anything. We are extremely happy and more than grateful. God bless Habitat and the people who worked here."
Habitat's Home Repair Program brought back hope and smiles to Ismael and his family. The repairs made to the home, honor the work done by his late father - who built the house - , and helped preserve the memories Ismael and his mother so much cherish. Habitat helped strengthen this family's stability.